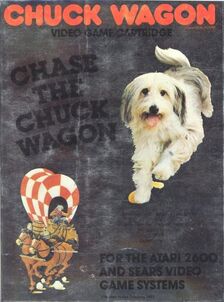 Chase the Chuck Wagon is a game developed and published by Spectravision for the game's creator Ralston Purina.
Gameplay
[
]
Chase the Chuck Wagon is a maze game where the player must guide a dog through a maze in order to reach a chuckwagon.
Conception and Creation
[
]
As part a promotion involving the Chuck Wagon line of dog food, Purina contracted video game developer Spectravision to create a game themed around dogs and dog food. Customers could redeem proofs of purchase from bags of dog food in exchange for the game, an example of a new marketing technique that emerged during the popularity of video games in the early 1980s.[1] In practice, the promotion was relatively unsuccessful, and the game is nowadays something of a collector's item. The unshipped cartridges were destroyed.